Memphis Garage Door Repair & more by ASAP Garage Door & Gate Repair
If you're looking for a Memphis garage door repair professional, you've come to the right spot. ASAP Garage Door and Gate Repair serves the Memphis Metro/ South Tennessee and North Mississippi area. We are your #1 provider of Liftmaster® garage door and automatic gate operators for residential and commercial buildings
ASAP offers 3 styles of gate operators including slide, swing and barrier and our 24 hour on-call service means that regardless of the time of day, we will be there to service your automatic gate should any problems arise.
We guarantee our products and provide full service installation and repair. Contact us today.
How to choose the right garage door repair & maintenance service
Having a well-maintained, smoothly functioning garage door is an essential aspect of protecting your home and property. Your personal security, and that of your family and visitors, is also dependent upon having a garage entrance that operates efficiently and safely without fail.
Garage doors are surprisingly complex mechanisms—even those that do not have automatic opening devices—with many moving components that work together to enable correct, effortless opening, closing and securing of the garage entrance.
A malfunctioning garage door can be much more than an inconvenience. If your garage door doesn't open, close or lock correctly, it can leave you, your family and your property vulnerable to serious danger. It is important to understand that the common regular use of a garage door is all it takes to cause damage and deterioration of its many interactive parts.
Some garage door damage may occur suddenly and without warning, such as in cases of vandalism, accidents or severe storms. Fortunately however, most common garage door malfunctions can be prevented with regular, expert maintenance. Engaging a reliable, professional garage door maintenance and repair service is one of the best measures you can take to protect your family and property.
Six common garage door malfunctions that require immediate expert attention
Externally-caused damage (accidents, vandalism, storms) that prevents correct operation of the door or breaches security must be addressed ASAP. Call your maintenance and repair service and describe the damage clearly, so they can respond quickly and appropriately.If the damage to your door is less severe or primarily cosmetic, immediate attention isn't essential, but repairs should be made soon to prevent deterioration and to return your home's appearance to normal.
The door sticks or seems to hang up during opening and closing. This is one of those problems that can be prevented or minimized by regular garage door maintenance. If sticking occurs, the tracks may need to be to be cleaned or re-aligned, or the rollers and hinges may need to be lubricated.
The door won't open or close. If you have an automatic garage door opener, the first thing to do is something that you can do for yourself: Make sure the batteries in your remote are not dead, and check the switches and sensors. If there's still no response, your opener may need to be reprogrammed.Mechanical problems may also prevent your garage door from opening or closing. Again, regular maintenance will greatly reduce the likelihood of blockages and other mechanical hang-ups.
The door won't close all the way, which is obviously a security risk, as well as creating an energy drain if your garage is heated, or if the garage directly accesses your home. There may be a blockage, or the "close limit switch" may need to be adjusted.
The door won't stay open. This can lead to very dangerous situations—a heavy door slamming down on a person (especially a small child) or pet can cause serious injury or even death. Apart from this danger, a door dropping unexpectedly can cause major damage to any vehicle or equipment that happens to be in the way. TThis is a problem that requires professional attention; do not open the door again, until your service person advises you to do so. This problem may be caused by worn-out springs or broken cables. Again, an expert inspection during regular maintenance is will help prevent the mechanisms from getting to the point of failure.
The door makes loud grinding noises while opening or closing. Or it squeals or makes a metal-on-metal screeching sound. This is usually an indication that the door needs maintenance—cleaning, lubrication, adjusting if needed. Again, routine professional maintenance is the best way to avoid this annoying problem.
Featured Products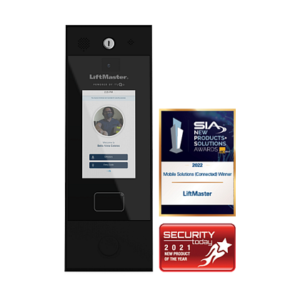 Make a great first impression with this scalable cloud-based smart access system.
Integrated video camera with 135⁰ view.
Control multiple entry points from a single dashboard with myQ® Community.
myQ Community app lets residents see who's at the entrance before granting access.
Controls up to 2 gates and/or doors.
How to choose the garage door repair service that is best for you
First and foremost, don't wait for an emergency to start looking for a garage door repair service. When you are leaving for work in the morning and pull out of the garage and then the door won't shut, or your garage door jams half-way open so you can't get your car out, or you find a window broken, or the door starts shimmying and screeching like a banshee, you simply won't be in a position (or mental state) to weigh your options carefully or to select the best repair service.
So. You need to find a good garage door service now, before a problem pops up. How do you find the right business for you? Ask friends, neighbors and co-workers if they can recommend a service. You can also find services listed online, often with consumer ratings available.
Once you have a list of promising services, take the time to visit the business address of each personally. Why? Seeing the business center will give you a good idea of the professionalism, presentation and attitude of the business and employees. Are these people you can trust with your safety and property, especially in an emergency? Make sure the business is licensed and insured—the manager and staff should be happy to show proof of this.
What other things should you consider in making your choice? Here's a short list:
Availability. Naturally the business should be located close enough to your home that they can respond promptly when needed. As importantly, can they be reached for service 24/7, including holidays? How can you contact them? What is the service charge for after-hours service visits?
Reasonable prices. You don't necessarily want to choose the cheapest service, but you don't want to be hit with excessive prices for parts or services either. Find out what they charge for service calls (including nights and holidays), their hourly rate, and common parts prices. Do a little comparison shopping.
Reputation. This is where word-of-mouth can be helpful. Ask your friends on Face Book if they are familiar with the business. Check with the Better Business Bureau. Google the business by name and see what pops up.
Reliability. How long has the service been in business? Do they guarantee their work?
Do they offer an inspection and maintenance service? As mentioned earlier, engaging a service to regularly inspect your garage door, clean and lubricate parts, make adjustments and replace worn components is one of the best ways to protect against dangerous and costly malfunctions. Establishing an on-going relationship with a garage door service has the added benefit of having a familiar, trusted business available to help if you do have an emergency.
So, choose your garage door repair service with care, when you aren't under the pressure of a crisis, and you can feel confident and secure that this important part of your home is securely covered.