CSW24U 24VDC High-Traffic Commercial Swing Gate Operator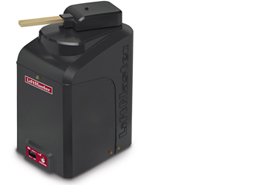 Engineered for more than a million cycles in high-traffic heavy-duty applications, the CSW24U is ideal for the most demanding swing gate environments.
All LiftMaster Openers, Operators, and Systems should be purchased through a Dealer and professionally installed.
Features
Connectivity
Confidently know what's going on at home with MyQ Technology. It lets you monitor and control your Gate Operator and home lighting from anywhere (when paired with the LiftMaster Internet Gateway).
Receive email or text alerts so you always know the status of your gate and lighting.
Get the MyQ mobile app for free. No annual activation fee required.
Save unsightly driveway scars with Wireless Dual-Gate Communication.
Requires 828LM MyQ Internet Gateway to connect to MyQ Smartphone App.
Performance
Engineered for more than a million cycles, designed to perform in the most demanding applications.
Get on and off your property even when the power's out with our Battery Backup feature and ultra-efficient Power Management System – up to 146 cycles or 24 days.
Delivers the performance you need, when you need it with an ultra-reliable Solar Power System.
Rated for gates up to 18 feet in length and weighing up to 1,200 pounds.
Safety and Security
Never wait for the gate and safely enter your property with Security+2.0™ – patented multi-frequency secure radio technology virtually eliminates interference and offers 2X the range of standard remotes.
Quickly secure your gate and prevent and prevent unauthorized access with the Quick-Close/Anti Tailgate feature.
Ensure that vehicles interrupt gate closure if a vehicle is in the gate's path with our innovative plug-in loop detectors.
Attach additional safety reversing devices with provided safety inputs. Each entrapment point should be protected with its own device.
Tested to UL/cUL listed standards to meet the most stringent industry guidelines.
Solar Tax Credit
The US Federal Government is offering financial incentives to homeowners for the use of solar powered systems at their home. Homeowners are able to apply for a Federal Tax credit equal to 30% off the installed cost of their LiftMaster Solar Powered Gate Operator System.
What is Covered: This solar system Tax Credit applies to the total installed cost of the solar gate opener system. This includes the related solar panel, opener, access control device, remote controls, obstruction detection device(s), etc.
Qualifications:
The installation of a CSW24VDC Solar Gate System can qualify for a 30% tax credit on the installed system cost.
Effective for tax years beginning after December 31, 2008 through December 31, 2021.
The credit for solar electric property and solar water heating property, however, is available for property placed in service through Dec. 31, 2021, based on an applicable percentage. The applicable percentages are:

In the case of property placed in service after Dec. 31, 2016, and before Jan. 1, 2020, 30 percent.
In the case of property placed in service after Dec. 31, 2019, and before Jan. 1, 2021, 26 percent.
In the case of property placed in service after Dec. 31, 2020, and before Jan. 1, 2022, 22 percent.

You will need to provide a copy of the "Manufacturer's Certification for Credit".
The dwelling must be located in the United States and be used as a residence by the taxpayer.
This offer is only available in the United States.