KPR2000 – Wired Keypad and Proximity Reader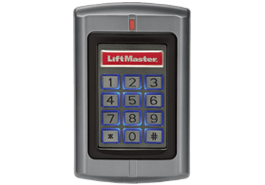 LiftMaster's KPR2000 is a feature-rich keypad and proximity card reader access controller that is simple to install and looks great, making it an excellent choice for both Residential and Commercial applications.
All LiftMaster Openers, Operators, and Systems should be purchased through a Dealer and professionally installed.
Features
Performance
Supports a maximum of 2,000 users in multiple access configurations.
Supports HID 26-bit and 30-bit Wiegand proximity card formats.
Designed for outdoor environments with a sealed, weather proof design allowing you to easily mount anywhere.
Provides stand alone or pass-thru operation
Latch Mode allows you to hold open a door or gate for an extended period of time.
Includes Rapid Programming and Block Enrollment capability, "Add" and "Delete" program cards.
Programmable Output Relay with adjustable contact time appropriate for Gate Operator, Commercial Door Operator, Door Strike or Solenoid Lock.
Capable of networking two KPR2000s, PPWR to the KPR2000 or to most Access Control Systems.
Safety and Security
Rugged Vandal-Resistant Backlit Metal Enclosure to protect casing from unwanted entry
Anti-Tamper Alarm alerts you when someone has attempted to open the case while powered
Integrated Alarm Buzzer and Output allows you to set additional security alarms.